Often when I bring up the idea of retirement "gap years" in meetings, my clients' minds wander toward a family member who's decided to take a year off between high school and college.  Then they shake their head in disbelief about how millenials are often encouraged to backpack around for a year to mature and "find themselves".  Another moment of reflection about how the world's changed, and that's about when their attention snaps back to refocus on our meeting.
No, retirement gap years don't have anything do with finding yourself or maturing.  They have to do with the years between retirement and age 70.  Many people will see their taxable income fall to lower levels once they stop working, and spike once they turn 70.  Thus, the retirement income "gap".
Here's why.  For those of us with assets in qualified retirement accounts like 401(k) plans or IRAs, 70.5 is the age when the IRS begins imposing mandatory distributions, which will be added to your taxable income.  Once you begin collecting Social Security you'll also be taxed on either 50% or 85% of the benefits, depending on where that taxable income falls.  If you're one of the many people waiting until age 70 to collect, that's two extra sources of taxable income added simultaneously, and recurring every year thereafter.
Thanks to our progressive tax system, the years you find yourself in a lower tax bracket can be a great opportunity to reduce taxes over the rest of your life.  This post will explore how.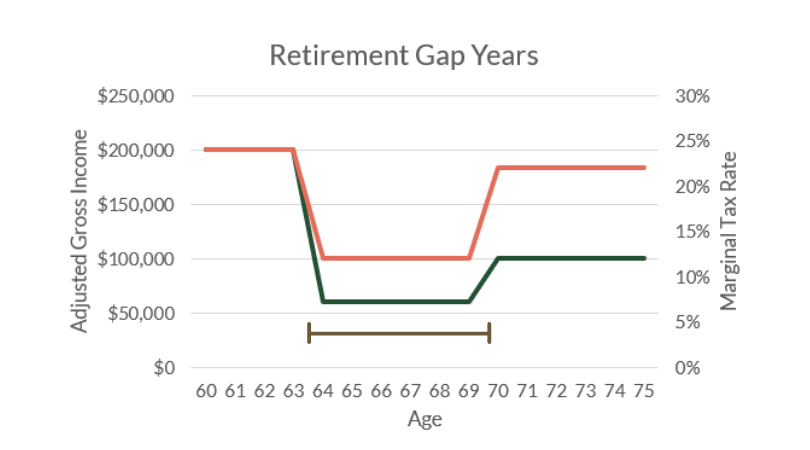 The Opportunity
As you know, we have a progressive tax system here in the U.S.  The higher your taxable income, the higher the rate you pay.  As I write this, the tax brackets for single & married people filing jointly are: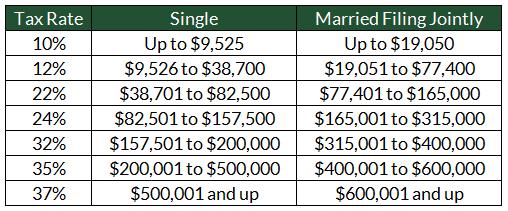 Notice the big jumps here – our marginal tax rates don't increase evenly.  10% & 12%, 22% & 24%, and then 32% and higher.  The increases from 12% to 22%, and again from 24% to 32% are significant, and present a convenient opportunity when planning for retirement.
Think of a typical retirement timeline.  If you plan to stop working at 65 years of age, chances are your taxable income will be higher at age 64 than it will be at age 66.  Then a few years later at age 70.5, you'll enter RMD territory.  The IRS will force you to take a certain amount of money out of your tax deferred retirement accounts every year, or face a stiff 50% penalty.